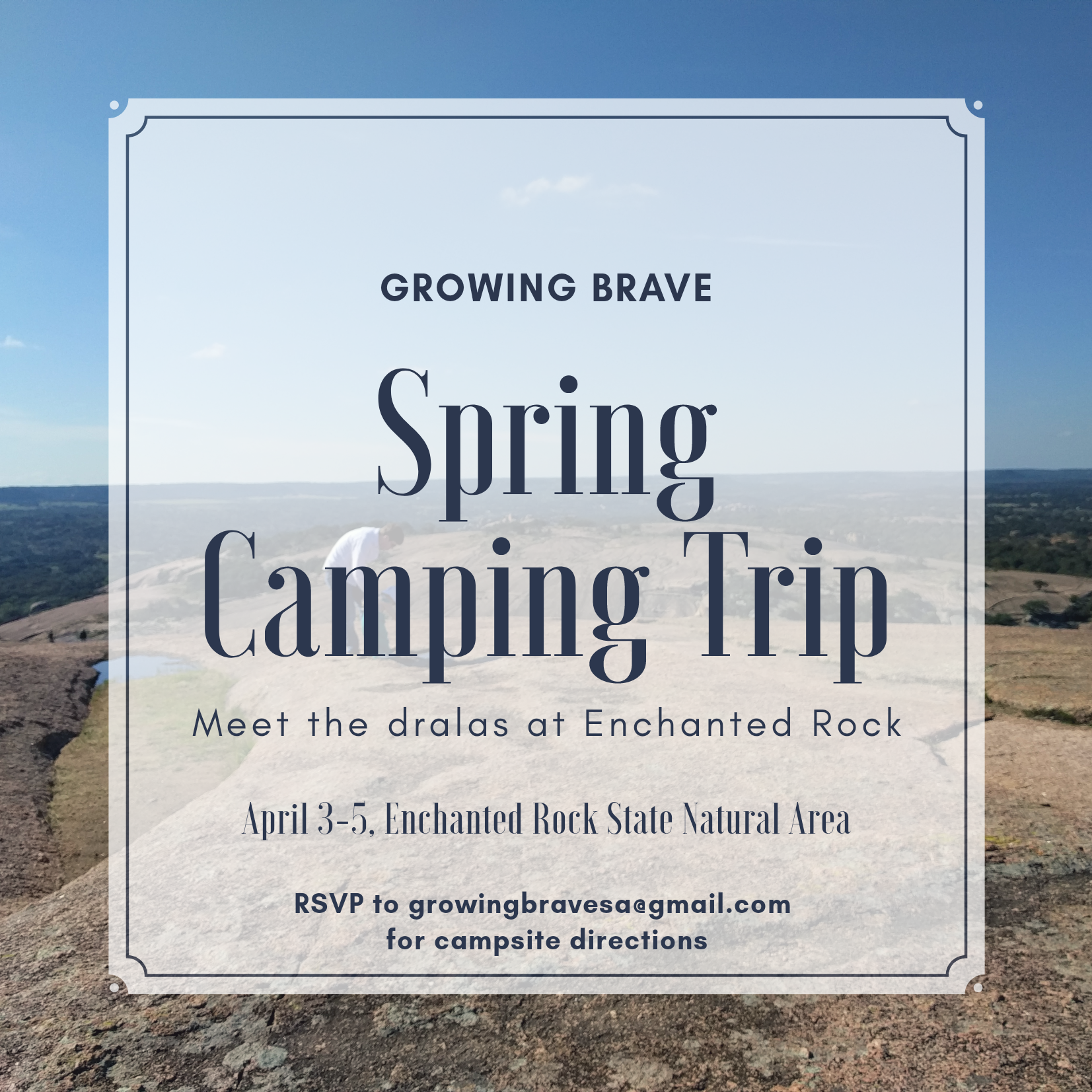 Spring Camping Trip to Enchanted Rock State Park
with Teresa Spicer
Join the Shambhala Meditation Center of San Antonio, Friday, April 3rd through Sunday, April 5th for our first Spring Growing Brave Families Camping Trip! We will be camping at the foot of Enchanted Rock to explore the drala of Enchanted Rock. (Drala is a way of describing the experience of non-duality of the physical world, a way of directly and simply being inspired and uplifted by the wisdom and beauty we experience through our sense perceptions.) You may join us for a night, or stay for the entire weekend. Please leave electronic devices at home.

On Friday, staff will be available to help set up tents, etc. during the evening. On Saturday afternoon, we will hike up Enchanted Rock, looking for vernal tide pools along the way.

Lodging: Only tents are allowed at Enchanted Rock. There is one tent pad (12 x 18') per campsite, plus a grassy area to pitch additional tents. The tent sites are next to the bathrooms and showers. One campsite has full shade, and the other has partial shade. Nothing may be hung from trees. Hammocks must be hung from stands. There is a playground nearby.

Food and food preparation: Shaded picnic tables and fire rings with grills are available at both campsites. In addition to the grills, camp kitchens with fuel will be provided. Please plan to bring your own food and drinking/cooking water for breakfasts and lunches in addition to the potluck dinner Saturday night. Dishes can be washed at the campsite using the water spigot, but please bring biodegradable dish detergent. Campsites are 25 to 100 yards from the parking area, so large coolers can be brought for food storage. Remember to pack it in, pack it out!

If you don't have a lot of camping experience, don't worry - in addition to many conveniences being provided, you can draw on REI's intro to camping (https://www.rei.com/learn/series/intro-to-camping) for a better idea of what to expect and what to bring, or contact us to discuss.

Space is limited to 16 people, so please register if you are coming, with a note about how many people total are coming from your family. Campsite details will be sent upon registration.