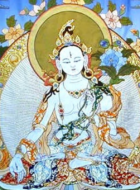 White Tara Practice with Acharya Judith Simmer-Brown
At the inspiration of Acharya Judith Simmer Brown, Shambhala Online is hosting live White Tara practice sessions to sooth the fear and suffering we are now facing due to the threat of a worldwide COVID19 pandemic.
Emanated from the tear of the compassionate Avalokiteshvara, peaceful White Tara is said to witness the suffering of beings through her seven eyes, and soothes fear, calms anguish, heals, restores health—both individual and communal—and extends lives.

It is therefore particularly fitting to practice White Tara together at this time. Please join us on Zoom if you can.
This program has been paid for by the center, so we can offer it to our group for a small fee ($10 with discounts, of course). Registering helps!
Zoom link to join us for the program: