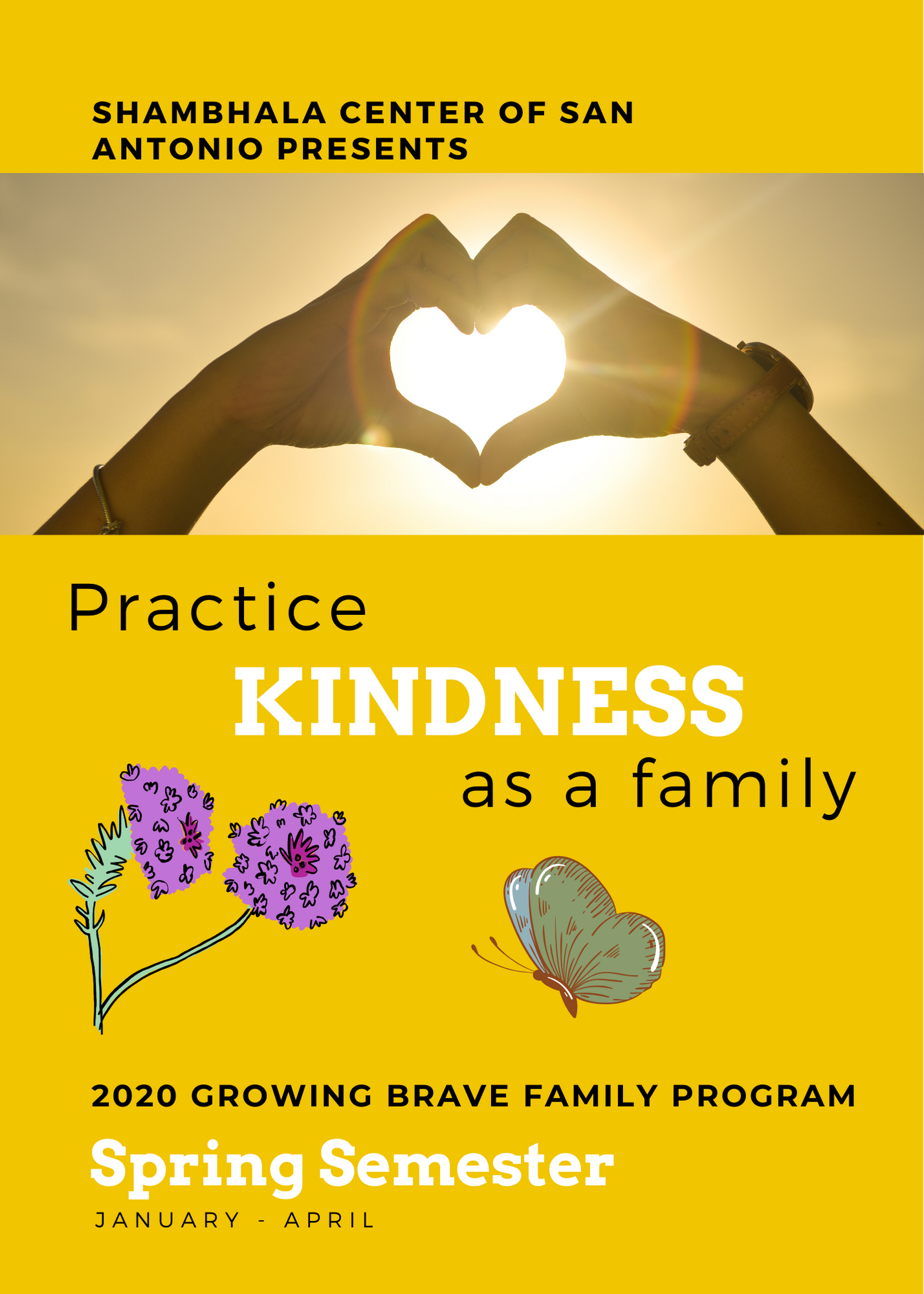 Growing Brave Family Program Spring Semester
with Teresa Spicer & Chantal Pierre
Our Growing Brave family program for families with children between 3 and 12 years old is based on the Sitting Together curriculum developed by Sumi Loundon Kim.
We explore Buddhist and Shambhala themes through play, music, art, and stories while incorporating simple, age-appropriate mindfulness activities. We welcome families from any or no religious backgrounds to attend. In 2020, we will cover the kindness unit as well as the Shambhala culture unit. The kindness classes are secular; the Shambhala culture classes serve as an introduction to how our lineage celebrates the seasons.
Growing Brave classes are every 2nd Sunday, from 11 AM to 12 PM (except April, May, and December). The Spring Semester runs from January through April.
| | |
| --- | --- |
| Date | Topic (Children/Parents) |
| Jan 12, 2020 | Family/Igniting loving kindness |
| Feb 9, 2020 | Celebrating Shambhala Day (Lunar New Year Shambhala culture) |
| Mar 8, 2020 | Planting Seeds of Peace (Spring Equinox Shambhala culture) |
| Apr 19, 2020 | Acts of Kindness/Lovingkindness for oneself |
Each class can be attended without having attended any of the other classes - and newcomers are always welcome. Children who complete the series will receive a pin in a ceremony at the end.
Growing Brave is co-scheduled with Shambhala Café, which starts with breakfast at 9 AM and meditation (with instruction if desired) for adults.
Growing Brave consists of coordinated sessions for both children and parents; on Zoom, the children's lesson will be at 10 AM so that parents can join the adults' talk at 11 AM. Parents may need to assist children with the craft and have needed supplies ready. What supplies are needed for each lesson will be sent after registration.
When you register, please register once per family and indicate the number of children and adults in the comment box.
How to pay:
The best way is to sign up before the first class and pay $30.00 online for a whole semester. (A PayPal or credit card link pops up after you register.)
For those who do not want to attend a whole semester, you can pay $10.00 for each class on the days that your family attends via the donation link on the center page.