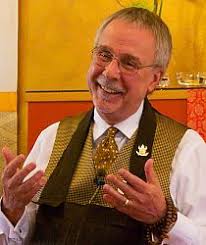 Compassion to Inner Awareness with Acharya Moh Hardin
Compassion to Inner Awareness
with Acharya Moh Hardin
In this talk and discussion, we will explore how every teaching and practice of dharma arises as an expression of compassion in order to awaken the innate wisdom within every human being. Our text will be this short "Homage to the Guru of Inner Awareness."
"The Body of the Dharma is in itself Peace,
And therefore it has never emerged from itself;
And yet Light is kindled in the womb,
And from the womb and within the womb the play of blessings arise;
That is to say, the energy of compassion begins its ceaseless operation.
One who follows the Buddha, Dharma, and Sangha is aware of Emptiness; that knowledge of Emptiness and of loving-kindness which is without self is called the Great Perfection of Equanimity, by means of which one has sight of this very world as the Mandala of all the Buddhas.
May this guide you and be your companion in your pilgrimage to Liberation; led by the Light of Wisdom, may you attain to the form of the Great Compassionate One."
​​​​Vidyadhara Chögyam Trungpa Rinpoche,
​Mudra, Shambhala Publications
Suggested donation: $10
This will be a Zoom event. Use this link:
https://zoom.us/j/91613387310?pwd=N0Z6Z3U0VzlHV0RDNFJid1J0bGxyQT09

Suggested donation: $10. Donate a heart gift for Acharya Hardin by using the "donate now" button on the main page sidebar and including a memo saying it is for the Acharya.