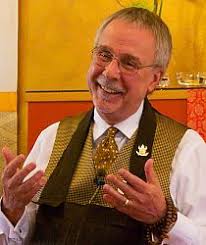 Relating to Polarities with an Open Heart
with Acharya Moh Hardin
Relating to Polarities with an Open Heart
This talk will be a commentary on the following teaching given by Elizabeth Mattis Namgyel, the wife and main student of Dzigar Kontrül Rinpoche, who lives in Crestone, Colorado. It seems relevant at many levels.
"This notion of something being good or bad, beneficial or harmful, these are limitations of language. Yes, these are very important ideas, but I like to say those words are more like a map—they tell us something about a place in broad terms. But when we actually walk the territory of the map, of the idea, we move beyond fixed concepts into nuance. Just as Rinpoche was saying last night, we say, "forest," but when we arrive there, we discover many different trees.

As we move into looking more closely in this way, we don't lose track of the original meaning of the idea, such as good, or bad; at the same time, we unfold its meaning and relevance much more so. This is of particular concern right now in the world where we are being asked to look deeply at many polarities. But I want to emphasize that in these teachings on the Middle Way, while it can seem that we may be dissolving the details and particularities of an idea and going beyond those, it in no way undermines our intelligence and ability to respond to those complex issues - in fact, as we open our mind more deeply, we will feel more agility and flexibility in responding to the deepest and more intractable and painful issues from a much more fresh and deep perspective.
Elizabeth Mattis Namgyal 7/11/2020
Shambhala San Antonio is inviting you to a scheduled Zoom meeting. There will be a waiting room to enter. Join Zoom Meeting https://zoom.us/j/97693550977 Meeting ID: 976 9355 0977 One tap mobile +19292056099,,97693550977# US (New York) +12532158782,,97693550977# US (Tacoma) Dial by your location +1 929 205 6099 US (New York) +1 253 215 8782 US (Tacoma) +1 301 715 8592 US (Germantown) +1 312 626 6799 US (Chicago) +1 346 248 7799 US (Houston) +1 669 900 6833 US (San Jose) Meeting ID: 976 9355 0977 Find your local number: https://zoom.us/u/apzI2d6nt
Please consider a heart gift to Acharya Moh Hardin through the donate button with a comment "Heart gift to Acharya Hardin" and we will send it on to him. Thank you.