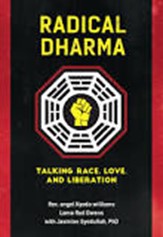 Compassion Thursdays weekly book study
We will be starting a new book on November the 12th, "Radical Dharma" by Rev. angel Kyodo williams, Lama Rod Owens and Jasmine Syedullah Ph.D. This weekly book study is open to everyone.
Igniting a long-overdue dialogue about how the legacy of racial injustice and white supremacy plays out in society at large and Buddhist communities in particular, this urgent call to action outlines a new dharma that takes into account the ways that racism and privilege prevent our collective awakening.
This will start on November 12, 2020 and runs weekly (excepting holidays). You can register for the class at the link below and pay $50 for the series or pay $5 per session as a donation here. Please consider contributing the suggested donation. Through the generosity of contributors everyone is welcomed.
Here is the zoom link https://zoom.us/j/201793456
Drop-ins welcome. You can attend one or as many as you can fit into your schedule.
See you Thursdays!