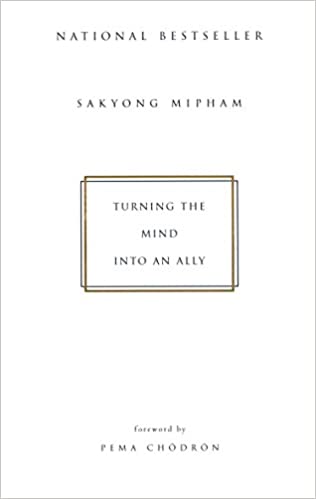 Compassion Thursdays weekly book study
We will be starting a new book on September 9th, "Turning The Mind into an Ally" by Sakyong Mipham. This weekly book study is open to everyone regardless of experience.
Sakyong Mipham is a teacher with a remarkable ability to digest the traditional Tibetan Buddhist teachings thoroughly and completely and then present them in a way that speaks directly to the hearts and needs of Western people. The beauty of his approach is that it joins two streams of teachings: Buddhism and Shambhala, a spiritual warriorship grounded in realization of basic goodness. Here Sakyong Mipham offers detailed instructions for building a courageous mind through the practice of meditation. He includes descriptions of the obstacles we might encounter in such rigorous work, along with the antidotes traditionally prescribed by the lineage of Tibetan and Indian meditators.
The study will start on September 9th, 2021 and runs weekly (excepting holidays) thru Feb 2022. You can register for the class at the link below and pay $50 for the series or pay $5 per session as a donation here. Please consider contributing the suggested donation. Through the generosity of contributors everyone is welcomed.
Here is the zoom link https://us06web.zoom.us/j/81536854030
Drop-ins welcome. You can attend one or as many as you can fit into your schedule.
See you Thursdays!