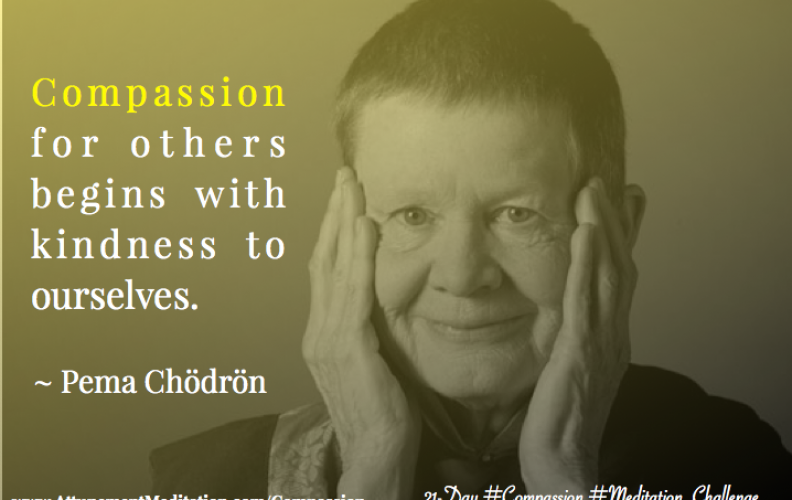 Compassion Thursdays weekly book study
Compassion Thursdays at the San Antonio Meditation Center continue!
Every Thursday starting September 12th through Feburary 2020 the San Antonio Meditation Center offers a weekly book study open to everyone.
Using Pema Chodron's, " The Places That Scare You; A Guide to Fearlessness in Difficult Times" we explore how to awaken our basic goodness and connect with others, to accept ourselves and others complete with faults and inperfections, and to stay in the present moment by seeing through the strategies of ego that cause us to resisit life as it is.
Details:
September 12th thru Feburary 2020-
Thursday nights 7:00 PM to 8:30 PM. (excepting 10/31, 11/28 & 12/26)
Price: $50 online for the entire series, or;

$5.00 for each class the day you attend.
Bring your own book or email us to set up payment for the book and class as a group order. Email: [email protected]

More about the book:
This chapter a week study is perfect for those who want to understand how to help yourself and others live with the everyday heartache of existence and thrive. And although it offers a deeper dive into the Mahayana Path and a study for Bodhisattva warriors, everyone is welcomed and no previous experience in Buddhist studies is required.

How to sign up to attend:
The best way: sign up before the first class and pay $50.00 online for the whole series. Please use PayPal or credit card online link here. You can also bring cash or check to the first class. Register for the series before if you like to make sure you're signed up.
Drop-ins welcome. Each Class can be considered a stand-alone study unit. You can attend one or as many as you can fit into your schedule.
How to pay:
We want to make this available to everyone but also make sure we have the resources available for you and keep the lights on so help us by paying in a way that makes sense for you.
For those who want to drop in as you can, you can pay $5.00 for each class the day you attend.
See you Thursdays!