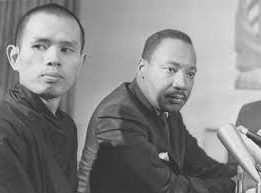 Martin Luther King Day march
Members of the San Antonio Shambhala Meditation Center will be participating in the MLK Jr. March on Monday, January 20, and are inviting other members, family, and friends in the community to come join us.
Please join us as our local Shambhala Center supports the basic tenets of community service and advocacy along with fostering camaraderie. Shambhala members, friends and other community members are invited to walk together as a Shambhala group as we honor the life and legacy of Dr. Martin Luther King Jr. with the annual MLK Celebration.
Our group will meetup at St Phillips College parking lot #2 (Mittman and Wyoming) at 9:00am. There is bus service from the parking lot to the starting point, at no cost for those of us parking at St Phillips. The march will commence from the starting point at the Dr. Martin Luther King, Jr. Academy on MLK drive at 10:00am, and is about 2.75 miles long If you would like to walk with us, please register online so we will know to keep our eyes open for you.
Hope to see you there. For more information, please contact [email protected].