Compassion Thursdays weekly book study
Compassion Thursdays at the San Antonio Meditation Center continue!
Every Thursday starting July 30, 2020, the San Antonio Meditation Center offers a weekly book study open to everyone.
Our next book will be "Crazy Wisdom" by Chogyam Trungpa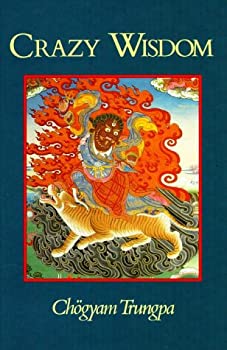 Chögyam Trungpa describes "crazy wisdom" as an innocent state of mind that has the quality of early morning—fresh, sparkling, and completely awake. This fascinating book examines the life of Padmasambhava, or Guru Rinpoche—the revered Indian teacher who brought Buddhism to Tibet—to illustrate the principle of crazy wisdom. From this profound point of view, spiritual practice does not provide comfortable answers to pain or confusion. On the contrary, painful emotions can be appreciated as a challenging opportunity for new discovery. In particular, the author discusses meditation as a practical way to uncover one's own innate wisdom.
Bring your own book or we will screen share the first few chapters to give you time to get the book for yourself.
You can make the $5 payment in cash or through a one time PayPal donation to [email protected], simply put in the comment section "Compassion Thursday"
Here is the zoom link https://zoom.us/j/201793456
How to sign up to attend:
The best way: sign up before the first class and pay $50.00 online for the whole series. Please use PayPal or credit card online link here. You can also bring cash or check to the first class. Register for the series before if you like to make sure you're signed up.
Drop-ins welcome. Each Class can be considered a stand-alone study unit. You can attend one or as many as you can fit into your schedule.
How to pay:
We want to make this available to everyone but also make sure we have the resources available for you and keep the lights on so help us by paying in a way that makes sense for you.
For those who want to drop in as you can, you can pay $5.00 for each class the day you attend.
See you Thursdays!