Compassion Thursdays weekly book study
Compassion Thursdays at the San Antonio Meditation Center continue!
Every Thursday starting March 5 through August 2020 the San Antonio Meditation Center offers a weekly book study open to everyone.
Our first book will be "The Sacred Path of the Warrior" by Chogyam Trungpa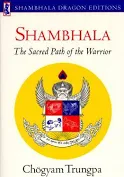 Details:
March 5 thru August 2020
Thursday nights 7:00 PM to 8:30 PM
Price: $50 online for the entire series, or;

$5.00 for each class the day you attend.
You can make the $5 payment in cash or through a one time PayPal donation to [email protected], simply put in the comment section "Compassion Thursday"
Here is the zoom link https://zoom.us/j/201793456
Bring your own book or email us to set up payment for the book and class as a group order. Email: [email protected]

More about the book:
In this practical guide to enlightened living, Chogyam Trungpa offers an inspiring vision for our time, based on the figure of the sacred warrior. In ancient times, the warrior learned to master the challenges of life, both on and off the battlefield. He acquired a sense of personal freedom and power-not through violence or aggression but through gentleness, courage, and self-knowledge. The Japanese samurai, the warrior-kings of Tibet, the knights of medieval Europe, and the warriors of the Native American tribes are a few examples of this universal tradition of wisdom. Interpreting the warrior's journey in modern terms, Trungpa discusses such skills as synchronizing mind and body, overcoming habitual behaviors, relaxing within discipline, facing the world with openness and fearlessness, and finding the sacred dimension of everyday life. Above all, Trungpa shows that in discovering the basic goodness or human life, the warrior learns to radiate that goodness out into the world for the peace and sanity of others.

How to sign up to attend:
The best way: sign up before the first class and pay $50.00 online for the whole series. Please use PayPal or credit card online link here. You can also bring cash or check to the first class. Register for the series before if you like to make sure you're signed up.
Drop-ins welcome. Each Class can be considered a stand-alone study unit. You can attend one or as many as you can fit into your schedule.
How to pay:
We want to make this available to everyone but also make sure we have the resources available for you and keep the lights on so help us by paying in a way that makes sense for you.
For those who want to drop in as you can, you can pay $5.00 for each class the day you attend.
See you Thursdays!